Dhigurah, a gorgeous and welcoming island in South Ari Atoll. At three kilometres long it is home to a community of just over six hundred people on land, as well as an abundance of life under the waves. From minuscule planktonic life, to the ocean giant and world's biggest fish – the whale shark. I was lucky enough for three months to call Dhigurah my home; I worked for the Maldives Whale Shark Research Programme as an infield assistant data collector on the whale shark population of South Ari.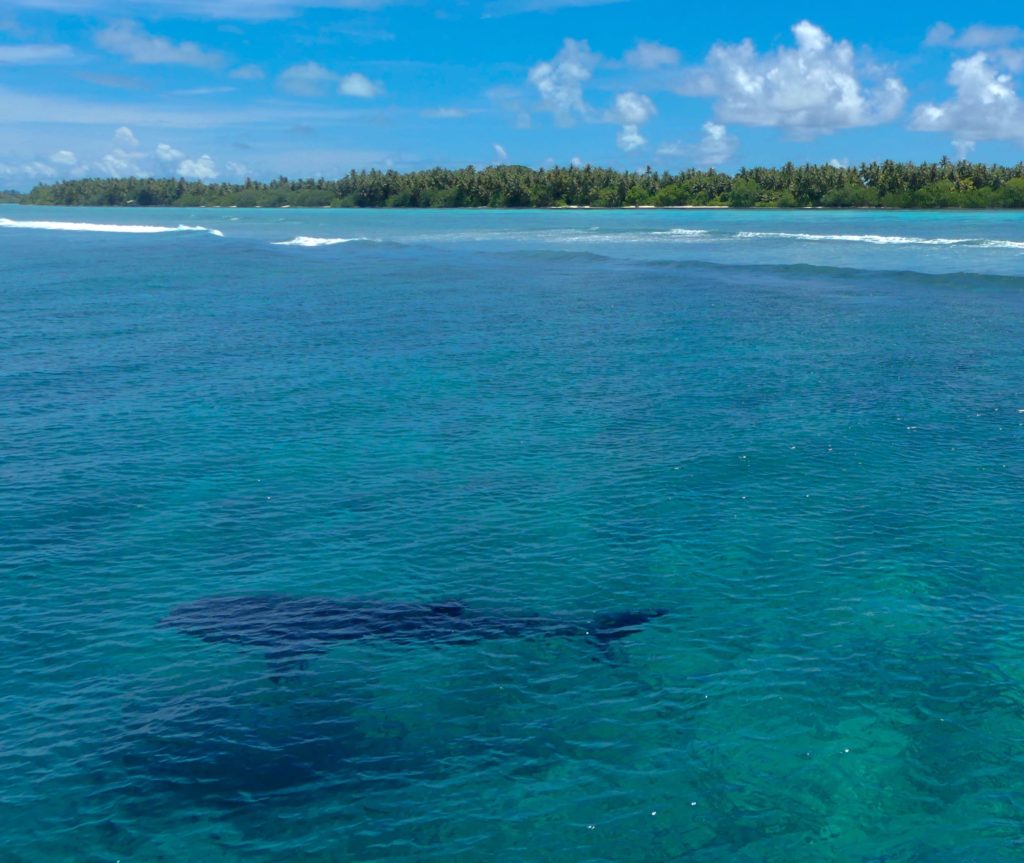 Before I delve in to what my time with MWSRP entailed, here's a bit of context about me. I've always been passionate about two things: the ocean and being creative. As many people love pointing out, these interests are in stark contrast to one another. It was two years ago after completing my degree in costume making (essentially locked in a workroom sewing, drawing and printing 24/7) that I could finally make time to learn more about the marine world I'd always felt connected to. Between my job I travelled home to Plymouth to volunteer at the National Marine Aquarium as a host, primarily involved with public engagement. My time at the aquarium taught me a lot; however soon I wanted a more hands on experience in the conservation sector. In 2017 I travelled for two months, volunteering first with MWSRP, and then with a turtle rehabilitation programme in Nusa Penida, before getting my Open Water scuba certification. MWSRP was by far the most rewarding and exciting experience for me. It felt like I was making a very direct contribution to an endangered species, one which happened to be in my top five favourite elasmobranches (yes, I have a list, carefully considered at the grand age of thirteen or so). After two weeks of volunteering with MWSRP I left feeling totally anchored to the whale sharks, Dhigurah and its community. I returned to my job in the UK, and yet, making costumes no longer seemed to be holding its spell over me like the ocean and its creatures did. As well as this I'd begun noticing more and more how much my industry contributed towards plastic pollution. These realisations really drove me to the pivotal decision of wanting to transition to a more marine conservation led path.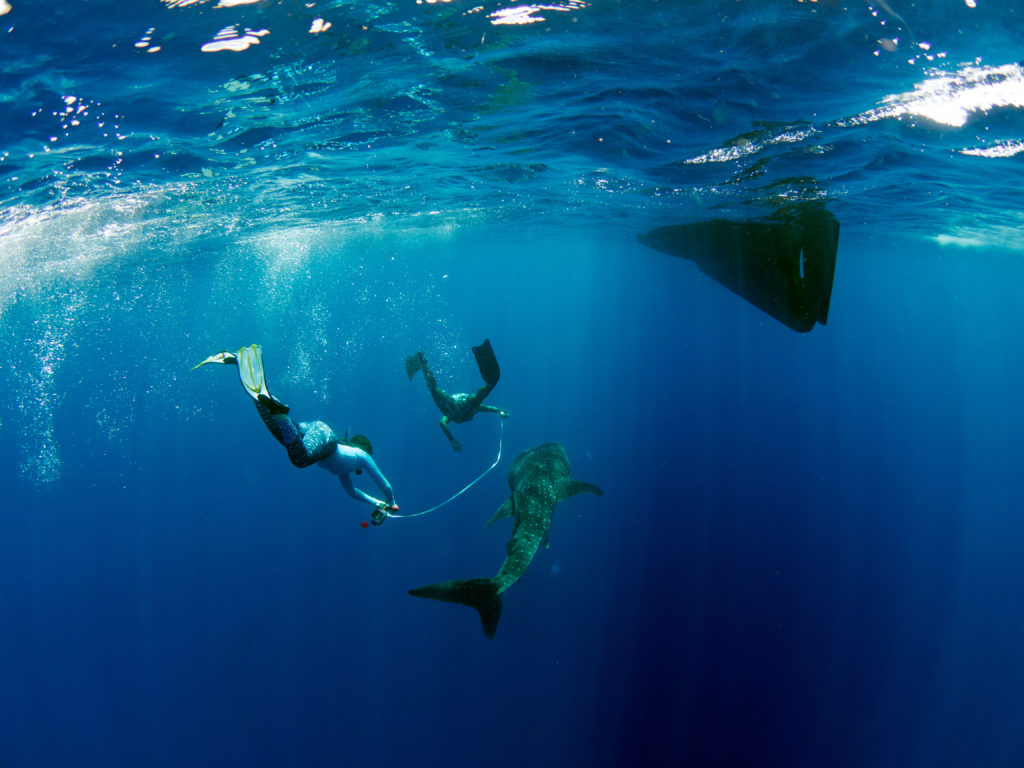 Soon enough, I had applied and secured the job as an infield assistant data collector with MWSRP. I was overwhelmingly excited and couldn't wait to return. For my first couple of weeks there was more of a focus on integrating into the island community, rather than jumping straight into work on the dhoni. We attended dinners and had meetings with the council in regards to upcoming projects. It was clear to see from these meetings why MWSRP's work is as much about strong community bonds and outreach, as well as advancing our knowledge of whale sharks – you don't get one without the other.
When the first volunteer group arrived our days became very busy and active on the dhoni; it felt so good to be back on the deck spotting sharks and megafauna. Of course, we would also come across some boat traffic too, making some encounters busier than others. My most memorable encounter was our lone encounter with Ethaan, he is a smaller individual and was very inquisitive of our dhoni as well as us. He stayed for a very long time and once I got my ID photos it was amazing to just observe his entire body moving, from his gills to his gentle swiping caudal fin. I felt so incredibly immersed during this encounter. I think that is the word I would use to encapsulate any time one spends in the sea with these sharks – immersed, wholly engaged in the moment with a creature that is so perfectly adapted and graceful. As well as being my fondest encounter, that day holds my fondest memories with the volunteers. The energy after the encounter was crazy and the smiling just didn't stop. Once back on the boat we listened to best of the eighties tunes all the way home, elated by our incredible shared memories.
As a volunteer I was reasonably new to the realms of scientific data collecting, coming back to it as a staff member I was more comfortable but still had the chance to learn in more depth. The observation part of data collecting (looking for distinctive features, measurement and depth estimations, behaviour of sharks and other megafauna etc) came naturally to me as a curious person and a creative. I would say that navigating the sequence of commands and labyrinth of folders on the work laptops was one of the challenging aspects for me. Tech is not my strong point! After a while, once I was more tech savvy, the process of data inputting at the end of the day became such a satisfying task. Seeing our neat pile of encounter sheets build up on the desk was especially satisfying too. When you read the information accumulated over a few months, even a person who is not a data analyst can see patterns emerge and correlations between the different aspects of data. This is the science based part which I ended up getting quite nerdy about, considering in the beginning it was all new to me, and this was great to talk about with the students of Mandhoo School when we did our Moodhu Kudhin workshop with them.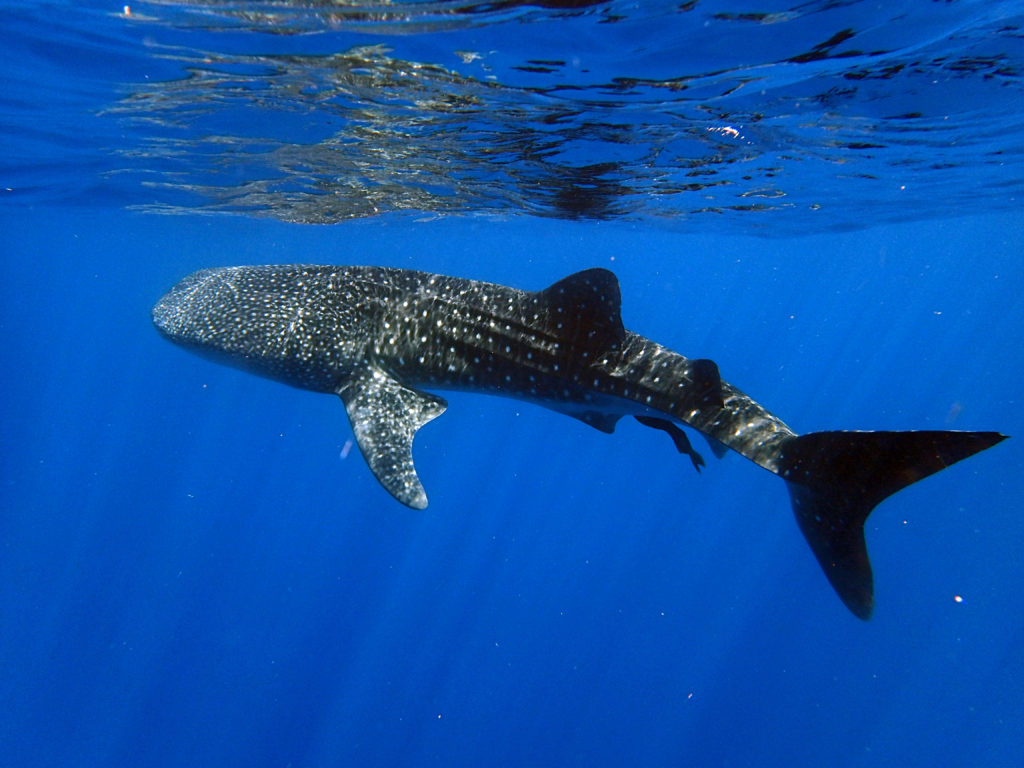 Moodhu Kudhin, which means 'children of the sea' in Dhivehi, is one of the ways MWSRP is involved in community engagement and education. We spent time with Mandhoo School taking the students out in two separate groups doing guided snorkels on a beautiful busy reef. We saw a whitetip reef shark and a hawksbill turtle at the same time, and I remember seeing the students, mask clad and flapping their fins excitedly, didn't know where to look first! A fair amount of the students seemed very keen on a future in eco tourism, diving and watersports and so listened with eagerness about our data collection methods and what we had to tell them about the whale sharks. Public engagement is something I was familiar with from my aquarium days and my love for it was amplified by talking with young people and the volunteers in the field, where they are immersed in the ecosystem so completely that questions and conversations are generated with ease and wonder.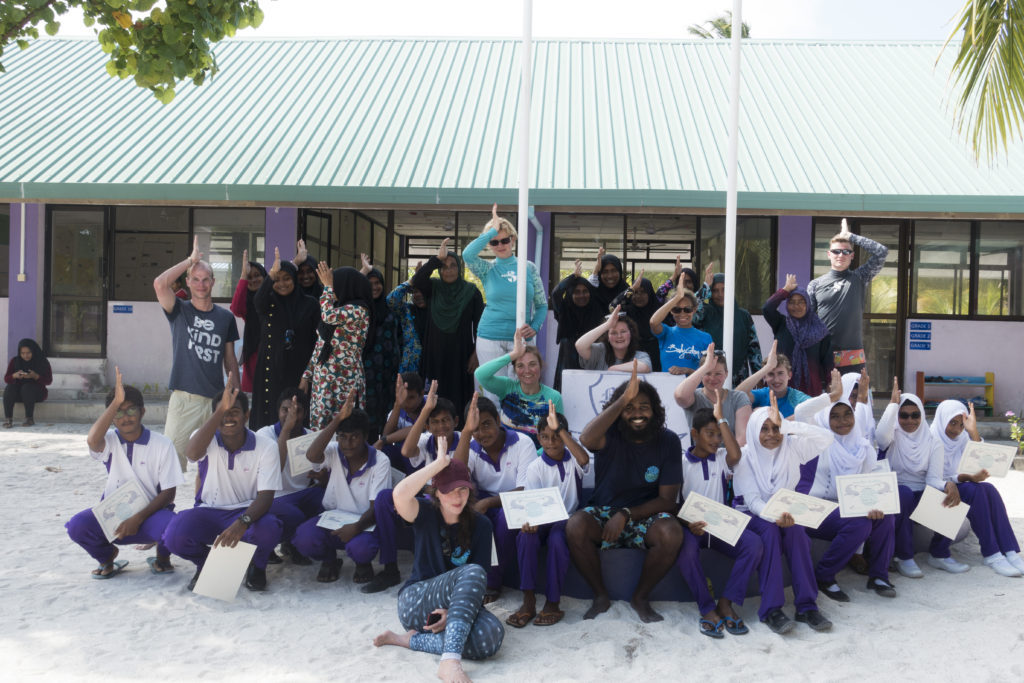 Being in the sea everyday with whale sharks and working with such enthusiastic people was an inspiring thing for many reasons; not only was I broadening my knowledge on the job, but my creative mindset was being fed too. On Dhigurah an outlet for this energy was found in the form of painting an educational mural about whale shark thermoregulation at the local preschool! Once I sketched a plan for our comic-strip style story of Kokko the whale shark, and his quest to get warm, the council liked it and gave us the go ahead. The majority of our painting was condensed into a short period in which we'd often work until the last of the daylight had faded and we were sweating buckets absolutely covered in flecks of colour. As a staff member of MWSRP the experience helped to strengthen my coordination of volunteers, and as a creative it got me out of my small scale drawing comfort zone! Some of my smaller scale work, including a marine themed alphabet I had drawn, was also used in classrooms for younger children to colour in. I didn't expect to come to Dhigurah and use these skills but I am so happy I did and it was lovely when locals approached me to comment on the work. I strongly feel that visual representation of marine life and conservation, whether it's a mural or a print or a workshop, is another way to convey the message and get people of all backgrounds connected with it.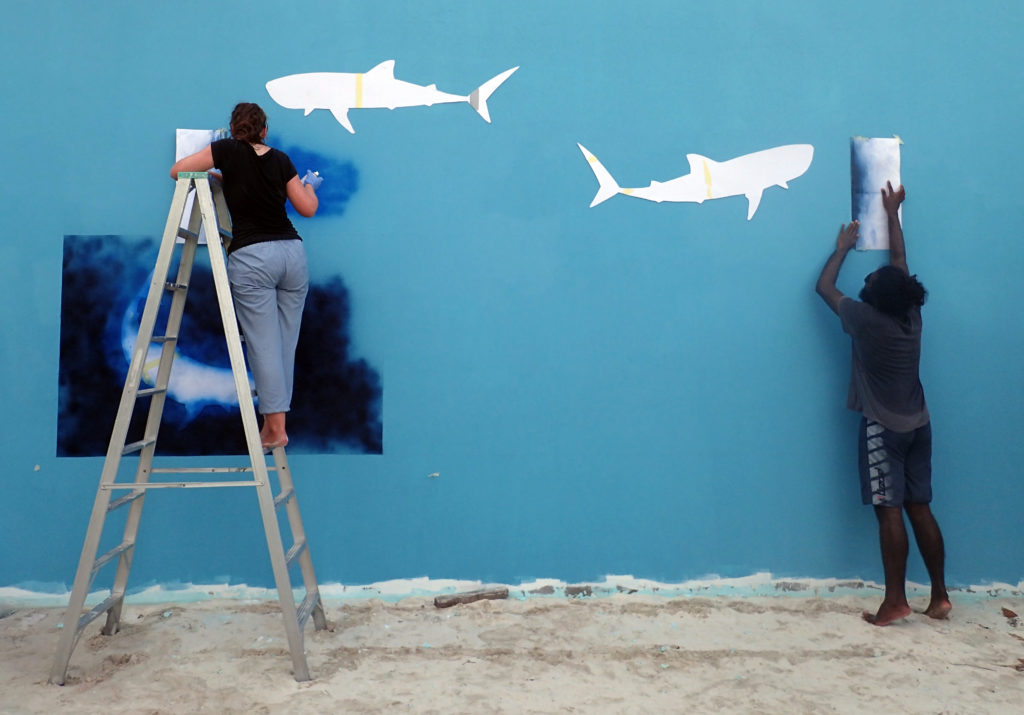 My time at MWSRP was phenomenal in so many ways; as cliché as it sounds it was a life changing experience. Being on the dhoni everyday in the field collecting data to contribute towards the protection this incredible shark felt natural to me in so many ways and I miss it immensely. Clara and Basith get a shout out for being such knowledgeable and fun people to work with, and now my firm friends and fellow cockroach crusaders (you had to be there!). Initially, when I arrived home I was very sombre, however, now I'm left with ideas of ways I can stay engaged while I continue on this path and in time I would love to do a masters and dedicate myself to marine conservation further. Shukuriyya Dhigurah and MWSRP!
Chloe's top five favourite Elasmobranchs!
1. Whale shark – Rhincodon typus – Rather unsurprisingly! Ever since I watched a documentary about Ningaloo reef's whale sharks and literally vowed on the spot in (a chilled David Attenborough like voice) 'yes. One day I shall observe this shark in the wild…'
2. Manta rays – Mobula alfredi and Mobula birostris – Mantas are such a close second and admittedly, depending on the day, they may overtake the whale shark's top spot. They are incredible to observe for their behaviour and I am so nerdy for fish behaviour's. The Manta is inquisitive, graceful and sometimes other worldly.
3. Epaulette shark – Hemiscyllium ocellatum – Because who do you know that can selectively shut down their organs when the tide is low and they're caught in a jam!? Also their adaption of their pelvic fins to 'waddle' over surfaces is as adorable as it is efficient.
4. Pelagic thresher – Alopias pelagicus– Super agile and some amazing hunting behaviour with that long, elegant caudal fin! It's fascinating, and slightly comical, watching them slap some poor unsuspecting fishes!
5. Zebra shark – Stegostoma fasciatum – It seems I have a thing for sharks with spots, sculpted lateral ridges and long sweeping caudal fins!