Volunteer in 2021!
Thank you for your interest in wanting to learn more about becoming an Assistant Research volunteer with MWSRP. By joining us aboard our research vessel and helping us collect baseline data on whale sharks and the marine environment, volunteers are a crucial part of the success of our research and organisation.
We've made some changes for 2021, with a view to ensure we spend as much time carrying out research as possible whilst keeping you safe. We're excited to announce that we're teaming up with a beautiful sailing yacht MV Felicity, which will be our floating base, initially for five 2-week research periods. We've done this for three reasons, we want to spend as much time on the water as possible as we've got some ground to make up on our monitoring of the whale sharks in South Ari. Secondly we want to minimise the potential for putting you or our host communities at risk of cross infection. Lastly, we want to choose a base that provides the most stability in terms of potential disruption due to the virus. Liveaboards by their nature or self contained and the most reliable option in terms of any potential restrictions.  
Volunteering with MWSRP is a life-changing experience. Our programme offers you the opportunity to get hands-on with the research and data collection, increase your knowledge on marine conservation, and have a great time doing it. We look for enthusiastic people with a love of nature who are not afraid of hard work!
How can you help?
We do not side-line volunteers into 'bit part' roles, but instead offer you the chance to get stuck in with every aspect of what we do, from measuring sharks in the water to taking I.D shots and helping us record our data. You can really become a valuable asset to our work in the time you spend with us, and in doing so help to conserve whale sharks and their marine habitat.
Requirements
Not a marine biologist? Not a problem! We welcome people of all ages, talents, and nationalities. We find that it is the diverse skills that our volunteers bring that make a huge impact on the Programme.
Project Location
Arrive in Male' where you'll be met and taken to board MV Felicity, ready for an overnight leg to South Ari atoll. You'll wake up in the beautiful lagoons of South Ari atoll. From our base on Felicity we'll take daily survey trips out on the dhoni along the famous South Ari Marine Protected Area. Home to a group of whale sharks that are unusually present all year round and display the highest natural residency rate of anywhere in the world. When your two weeks come to an end you'll make the return journey to Male' in time for your flight home. 
Arrival and Orientation
You will be met by a representative at Velana International Airport, Male' and escorted to the MV Felicity. Here you'll enjoy a welcome drink and briefing from the MWSRP team. 
Once your two weeks with us has come to an end, MV Felicity will make its way back to Male' where you'll be escorted safely to the airport to catch your return flight. . 
Accommodation and meals
Breakfast, lunch, dinner, afternoon snacks, water and tea/coffee are fully inclusive whilst on board.
Menus include Maldivian and some European dishes, freshly prepared on board by chefs who will do their best to cater for most specific dietary requirements. Please discuss any dietary requirements with us beforehand. 
There is a wide choice of soft drinks to purchase. 
As part of their commitment to the environment Felicity have removed plastic water bottles and refillable water bottles can be refilled from one water unit so please bring your own bottle.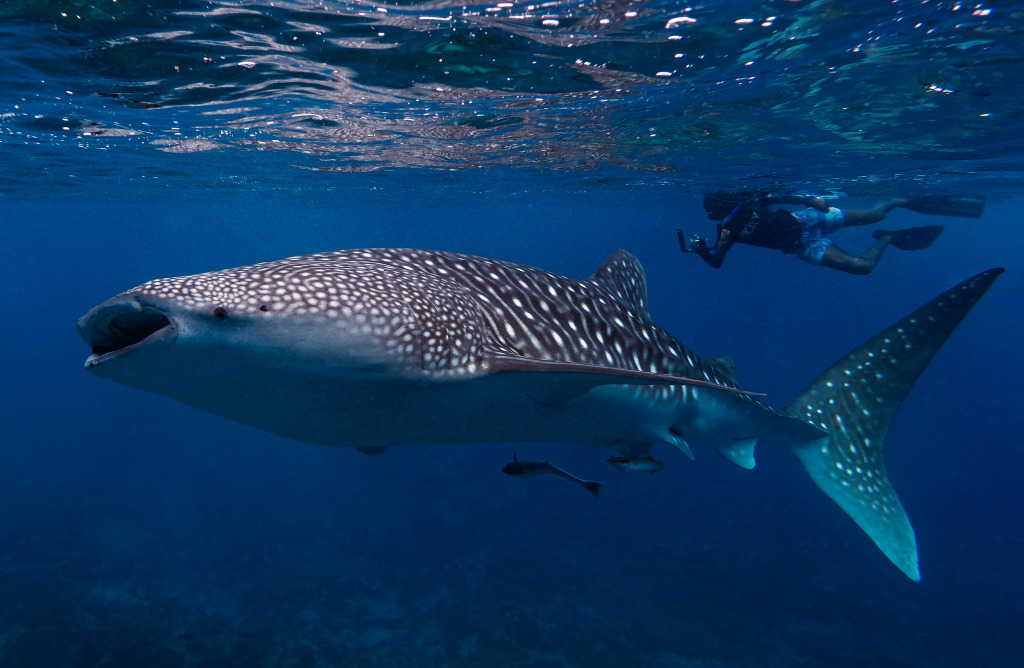 Apply
In order to volunteer with MWSRP, you must fill out and submit an application form.
Once you've submitted your application, we will get back to you within 2 weeks. Make sure you check your SPAM folder too! If you have any questions that have not been answered in the FAQ section of this website, please do not hesitate to contact us at volunteer@maldiveswhalesharkresearch.org.
Thank you for your interest. We look forward to reviewing your application.
– the MWSRP team
Start dates and Duration
Based in South Ari atoll, onboard the beautiful sailing yacht Felicity, we are offering  2 week Assistant Researcher positions during the following research periods:
9th May – 22nd May: Positions available

20th June – 3rd July: Positions available 

18th July – 31st July: Positions available

15th August – 28th August: Positions available

26th September – 9th October: Positions no longer available 

24th October – 6th November: Positions available 

7th November – 20th November: Positions available
Fees
Volunteer fees are an important part in helping to keep MWSRP in operation conducting research and conservation initiatives. These fees go towards covering the rental of the research dhoni (boat), accommodation, food, fuel, and project related expenses.
2 weeks: 
Included: food & water, accommodation, research vessel, guiding, airport transfer
Not included: International Flight, Diving (available at a heavily discounted rate tbc), Travel Insurance, Snorkelling equipment
More information: volunteer@maldiveswhalesharkresearch.org
Please read our Terms & Conditions carefully before you apply for a volunteer position. By confirming a volunteer placement with MWSRP, you accept and agree to these Terms & Conditions. MWSRP Terms & Conditions 2021 (46 downloads)
What to Expect. A day in the life
7:30 Breakfast
8:30 Boat Survey:
The most common activity will be actually being out on the water onboard the research dhoni looking for sharks. It can be hard, hot work, but the more eyes we have on the water, the better our chances of success. We travel around on our dhoni, a traditional Maldivian boat, and from the roof we have a
good vantage point from which to spot sharks. Every member of the team will be assigned a role at the start of the day, such as recording any other significant marine species we see, from turtles to mantas and dolphins, so there's never a dull moment.
Once we spot a shark, it's all systems go! We have to identify the shark if we can, which means taking a left and right sided picture, from which we look at the unique spot pattern later. Those with good lungs may be asked to 'sex' the shark, which means swimming underneath and having a good look! Finally, if there's time, we try to measure the shark, either with a line or with our laser photogrammetry measurement device.
Noticing and digitally recording new or healing injuries and other distinguishing marks can be really important in recording the health of the population too, so keep those eyes peeled!
4:00pm Return to Felicity
5:00pm Data Entry:
As an active research programme, we also have to collate all the data and encounters we log whilst out on the water for presentation to policy and decision makers. As volunteers you are an essential asset in bringing all this information together, so each evening after a day on the boat we input the data into our database, as well as identifying the individual sharks or other megafauna such as manta rays we saw that day. Spotting a shark, swimming with it and then identifying and monitoring it is a really rewarding process!
We upload all our encounters onto our online portal as well as contributing to our Big Fish Network. 
7:00pm Dinner
Evenings: Your time to process pics, listen to a presentation from our staff or just chill out and recuperate for tomorrow's adventures! 
Days off: Friday is typically our day off for our survey work. You'll have the opportunity to do some diving, go for a snorkel or visit a sandbank or two! Definitely worth putting your feet up too. It's important to recharge for the week ahead! 
Please email volunteer@maldiveswhalesharkresearch.org for further information or to request an application form.
Please read our Terms & Conditions carefully before you apply for a volunteer position. By confirming a volunteer placement with MWSRP, you accept and agree to these Terms & Conditions.
MWSRP Volunteer Terms & Conditions