Scroll down for the English translation
Gergasi Di Balik Gelombang
"Jump!" Arahan Farouk, pembantu juragan dhoni kedengaran tegas. Aku bergegas menyarung sirip kaki dan bergerak pantas ke bibir geladak depan sejurus selepas rakan sepasukan terjun ke laut. Mataku membidik tudingan jari Farouk ke lokasi di mana yu paus telah dilihat. Aku menghela nafas dari dalam snorkel dan cuba bertenang sebagai persediaan.
"Jump! Now!" gesanya. Aku terjun. Kemudian berenang mengejar rakan-rakan dan cuba memintas pelancong-pelancong bersnorkel yang sudah dulu terjun dari bot dhoni masing-masing. Sambil berenang aku menghidupkan kamera kalis air yang tertambat di pergelangan tanganku sebagai persediaan. Mataku mula meliar mencari kelibat ikan yu paus di sebalik kekeruhan air laut dan busa hasil kocakan air oleh perenang lain, mencari taburan bintik putih yang melitupi tubuhnya bagai bintang bertaburan.
Kemudian ia muncul, membelok ke arahku, berenang perlahan dan penuh gemalai. Aku mengingati taklimat sukarelawan tempoh hari dan memberi ruang kepada ikan gergasi ini melewatiku dengan aman, kemudian berenang mengiringinya dan cuba mengambil foto – terutama sekali bahagian-bahagian yang penting untuk rekod data. Aku mengerling sirip dorsalnya; ianya bengkok dan terlipat di hujung. Aku merenung corak bintik putih di belakang insang kirinya dan mengimbas kembali identifikasi tempoh hari. Ah, Adam rupanya. Ia masih berlegar di kawasan ini. Adam berenang agak hampir ke permukaan laut. Sanggupkah? Aku nekad – nafas kutarik panjang, dan aku menyelam bebas untuk cuba mengambil foto verifikasi jantina dari belakang, menunggu dengan sabar untuk ekornya melibas ke tepi.
Ikan itu mula menyelam perlahan-lahan. Sambil aku mengapung kembali ke permukaan, aku melihat Iru dan Alex menyelam bebas jauh mengikutnya, sirip kaki panjang bergerak tenang dan lembut, sungguh cocok dengan lenggok gelombang laut lepas dan si ikan yu. Aku tidak sanggup mengekori sedalam itu. Satu demi satu pelancong berpaling meninggalkan kami.
Aku sampai ke kepulauan Maldives untuk program sukarelawan selama dua minggu dengan MWSRP yang berpengkalan di pulau atoll Dhigurah. Terus terang tidak dapat aku zahirkan mengapa aku memilih program ini. Ianya hasil kepada pelbagai dorongan: panggilan sanubari untuk menjelajah dunia, minat seorang khalifah bumi kepada pemeliharaan wilayahnya iaitu alam sekitar, mungkin juga tarikan darah Bugis kepada lautan.   Ianya seolah-olah aku dihanyutkan arus kehidupan dan ia mendamparkan aku ke sini buat seketika, untuk bertembung dengan enam sukarelawan lain – kesemuanya perempuan.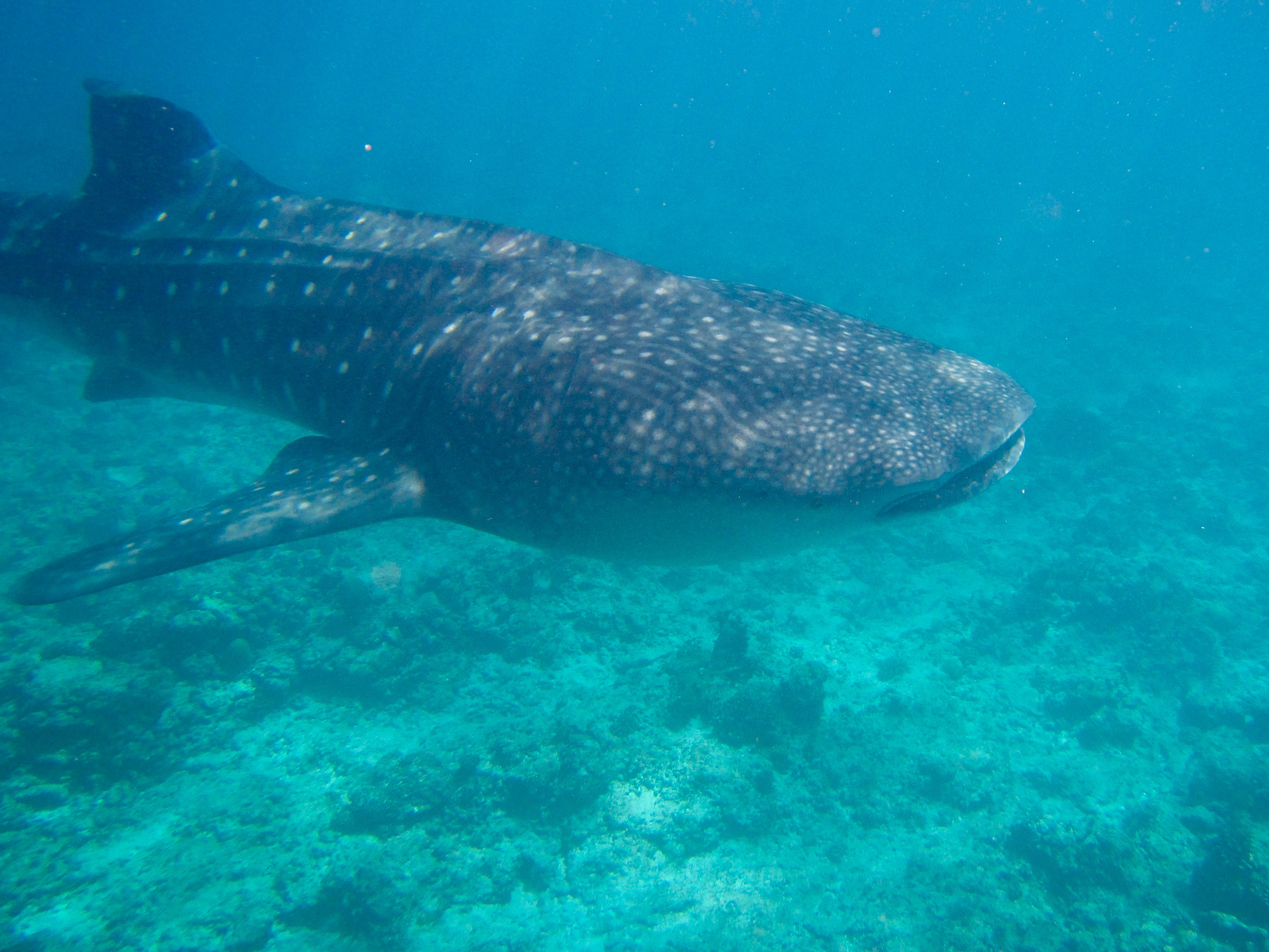 Sebelum program bermula sudah pun berlaku kejadian yang jarang berlaku. Bangkai seekor yu paus dilaporkan terdampar di sebuah terumbu berdekatan Male. Penyelia program kajian kami, Alex dan Iru, terus pergi menyertai anggota MWSRP lain untuk cuba merekod data dan mengambil sampel sebelum pereputan menghambatnya. Ikan penghuni laut lepas ini sukar dikaji dan dilindung sepenuhnya di kebanyakan negara, maka jarang sekali para penyelidik berkesempatan mendapatkan sampel tisu, DNA, isi perut dan sebagainya.
Hari pertama sudah cukup bertuah. Kami bertujuh turun bersnorkel untuk riadah, sesudah hari taklimat teknik pemantauan megafauna – yu paus dan juga haiwan lain seperti pari manta, penyu dan ikan lumba-lumba – serta pengambilan data persekitaran di laut. Tak sampai 10 minit seekor yu paus – diidentifikasi kemudian dari pengkalan data sebagai Chiko – merapati kami dengan mesra, dan kemudian lantas kembali makan, ternyata senang dengan kehadiran kami. Pada hari-hari berikutnya, hanya terdapat satu hari di mana tiada ikan yu paus terlihat. Dan pada hari survei terakhir kami berpeluang membantu seorang penyelidik dari USA meraih kembali sebuah glider lautan yang telah tamat misi merekod data lautan selama berbulan-bulan.
Tidak dinafikan makhluk ini sungguh mengagumkan, walaupun yang menghampiri pesisiran pulau Maamigili ini rata-ratanya hanyalah yu paus yang belum lagi dewasa. Data yang dikumpul oleh MWSRP berkisar kepada laporan pertemuan dengan ikan yu individu, serta keadaan masing-masing iaitu besarnya dan laporan kecederaan, dan kondisi di laut untuk setiap pertemuan. Data ini kemudiannya dibuka untuk kegunaan kajian oleh mana-mana saintis seluruh dunia yang berminat.
Kaedah identifikasi sungguh menarik; ianya mengadaptasi perisian NASA yang asalnya direka untuk mengenalpasti buruj dari corak taburan bintang dari mana-mana foto angkasa, mengambil ilham daripada kemiripan corak bintik yu paus kepada bintang. Tapi itu untuk penyelidik biasa dan orang awam seperti kami. Tidak bagi Iru, anak watan Maldives, yang berkebolehan unik mengenal hampir kesemua yu paus yang berlegar di kawasan itu, seperti mengenal muka manusia. Daripadanya aku mengenal nama ikan ini dalam bahasa mereka, iaitu bahasa Dhivehi – fehurihi. Kalau ikutkan pendapat peribadiku, ikan ini patut dikenali semua di seluruh dunia dengan ungkapan ini, kerana aku yakin tiada bahasa lain yang memberi nama yang sungguh tepat dengan gemalai pergerakannya.
Memang terdapat kekhuatiran akan tekanan kegiatan manusia, termasuk pelancongan, kepada makhluk ini. Ikan-ikan yang kami amati kebanyakannya tidak bebas daripada parut kecederaan yang biasanya kelihatan seperti akibat perlanggaran dengan kipas enjin bot. Ia mengingatkan aku kepada kecederaan penyu-penyu di kepulauan tanah airku – cuma bagi seekor penyu yang jauh lebih kecil dan tidak mempunyai lapisan tebal tisu pelindung, kecederaan begini biasanya membawa maut. Seperti di tanah air, aku melihat ramainya pelancong snorkel berkerumun, yang kadangkala menghadang laluan ikan yu dan terlampau merapatinya. Manusia, hentilah sejenak dan fikir, ikan ini mengharap santun daripada khalifahnya.
Banyak yang tidak diketahui para saintis tentang ikan yu paus ini. Mengapa yang dijumpai di pesisiran Maamigili kebanyakannya jantan? Di manakah ikan yu paus betina? Mengapa jarang dijumpai ikan yang sudah melepasi umur matang? Aku merenung kemampuan mana-mana yu paus dewasa; baginya laut lepas terbuka luas untuknya, dan ia mampu menyelam lebih 1 kilometer ke dalam laut. Sedangkan seorang manusia, jika pun mampu menjelajah setiap pelusuk daratan, atas kuasanya sendiri tidak mampu hidup dalam tiga dimensi, apa lagi 1 kilometer bagi paksi ketiga. Dengan dunia yang begitu luas, untuk apa seekor ikan yu paus tetap kembali kepada kepesatan, kehingaran, dan risiko yang terkait dengan lapisan dunia manusia?
Tidak kukesali datang ke sini. Sambil aku merelakan arus kehidupan membawaku kembali ke tanah air, aku mengimbas kembali kekariban antara kami tujuh sukarelawan yang makan dan bermain bersama, dan bersama ke laut, selama dua minggu, merentas batas bangsa dan umur. Berpanas sewaktu bertugas di dhoni bawah kemudi si juragan Gasimbe dan pembantunya Farouk. Bermain bola tampar bersama orang tempatan. Menari tarian rakyat musik bodu beru. Masuk ke laut di tengah malam mengusik plankton bercahaya pendar, di bawah langit berserakan bintang. Keindahan dan banyaknya isi laut di bawah air, dan kebiruan yang hampir berkaca di permukaan apabila dibilas cahaya matahari. Dan di pulau perkampungan seperti Dhigurah: kesederhanaan.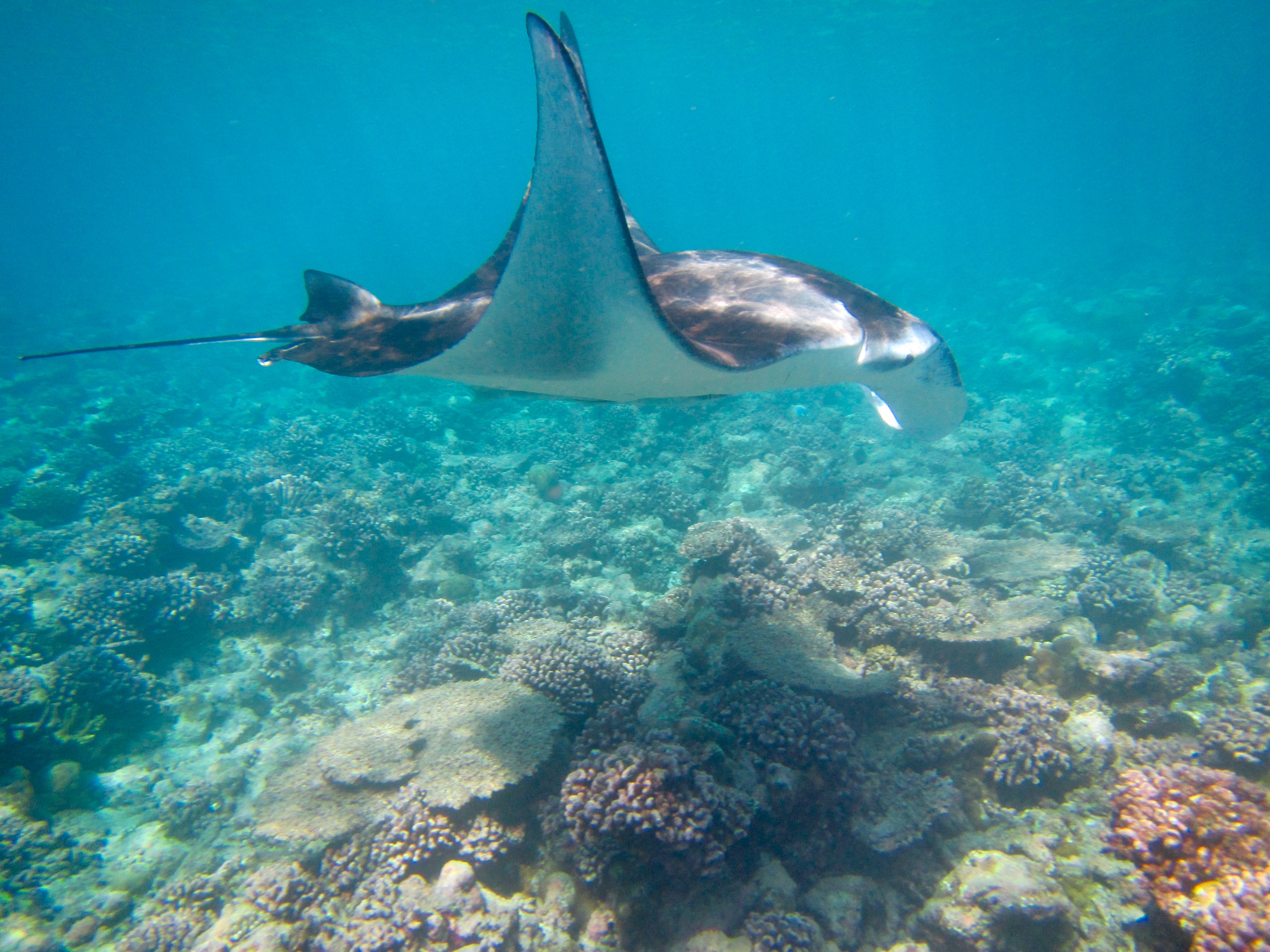 Giants Beneath the Waves
"Jump!" The command rang sharp from Farouk, the dhoni's first mate. I quickly put on my fins and moved to the edge of the boat as soon as my team member dropped into the sea. I followed Farouk's finger pointing to where the whale shark had been spotted. I drew a breath through the snorkel and prepared to drop in.
"Jump! Now!" he insisted. I shoved off, and swam hard after my friends, trying to overtake snorkelers who had already jumped in from their respective tourist dhonis, turning on my waterproof camera along the way in preparation. I began to peer around, looking for the bulk of the whale shark through the gloom of sea water and the froth kicked up by a dozen swimmers, straining to detect its starry scatter of white spots.
Then suddenly it was there, rounding towards me, swimming slow and gracefully. I recall my briefing and gave the gigantic fish space to pass by me peacefully, then swam alongside it, angling for photos – particularly the shots that could be relevant for the data collection. I glance at the dorsal fin; it was bent and folded on top. The spot pattern behind its left gill reminded me of the shark we identified the other night. It's Adam again, it seems. Still hanging around. Adam was swimming fairly close to the surface. Could I? Decision made, I drew a long breath and dived to see if I might successfully obtain a photo good enough to verify sex. I followed Adam behind, waiting patiently for his tail to flick away from the shot.
The shark began to descend slowly, and I was running out of breath. As I surfaced, I watched Iru and Alex free dive after it, long fins bending in graceful rhythm, a sight so fitting to the sway of the open sea and of the whale shark. I couldn't follow to that depth. One by one the tourists turned back and left our group.
I came to the Maldives for a 2-week volunteer program, which is based on Dhigurah island. Honestly I could not tell you why I chose this program. It was the sum of many things: among them, an inner need compelling me to travel, the commitment of a steward of the earth to mind her charge, perhaps the pull of my Bugis blood to the sea. The currents of the universe swept me into itself and washed me ashore there for a time, to collide with six other volunteers – all seven of us women.
Our batch's program began with a rare event before the first day dawned. A whale shark carcass was seen stranded on a reef near Male and so both our in-field coordinators, Alex and Iru had immediately gone to join other MWSRP members to try and collect as much data and samples before the carcass was too far decomposed. This open sea creature is challenging to study, and as it is also often a completely protected species, samples such as tissue, DNA, stomach content are hard to come by.
Day one likewise began highly auspiciously. All of us went into the water for a fun snorkel, at the end of the introduction day at sea, when we were shown how to survey from the boat (for whale sharks, but also other megafauna such as manta rays, turtles, and dolphins) and carry out the environmental data collection. Not 10 minutes in the water and a very inquisitive whale shark – later identified from the database as Chiko – approached us amiably, then proceeded to continue filter feeding, apparently quite comfortable with our presence. In the coming days, there would only be a single day when we had no whale shark sightings at all. And on the final day, we had the privilege of assisting a researcher from the USA retrieve a sea glider at the end of its oceanographic data collection mission, after months at sea.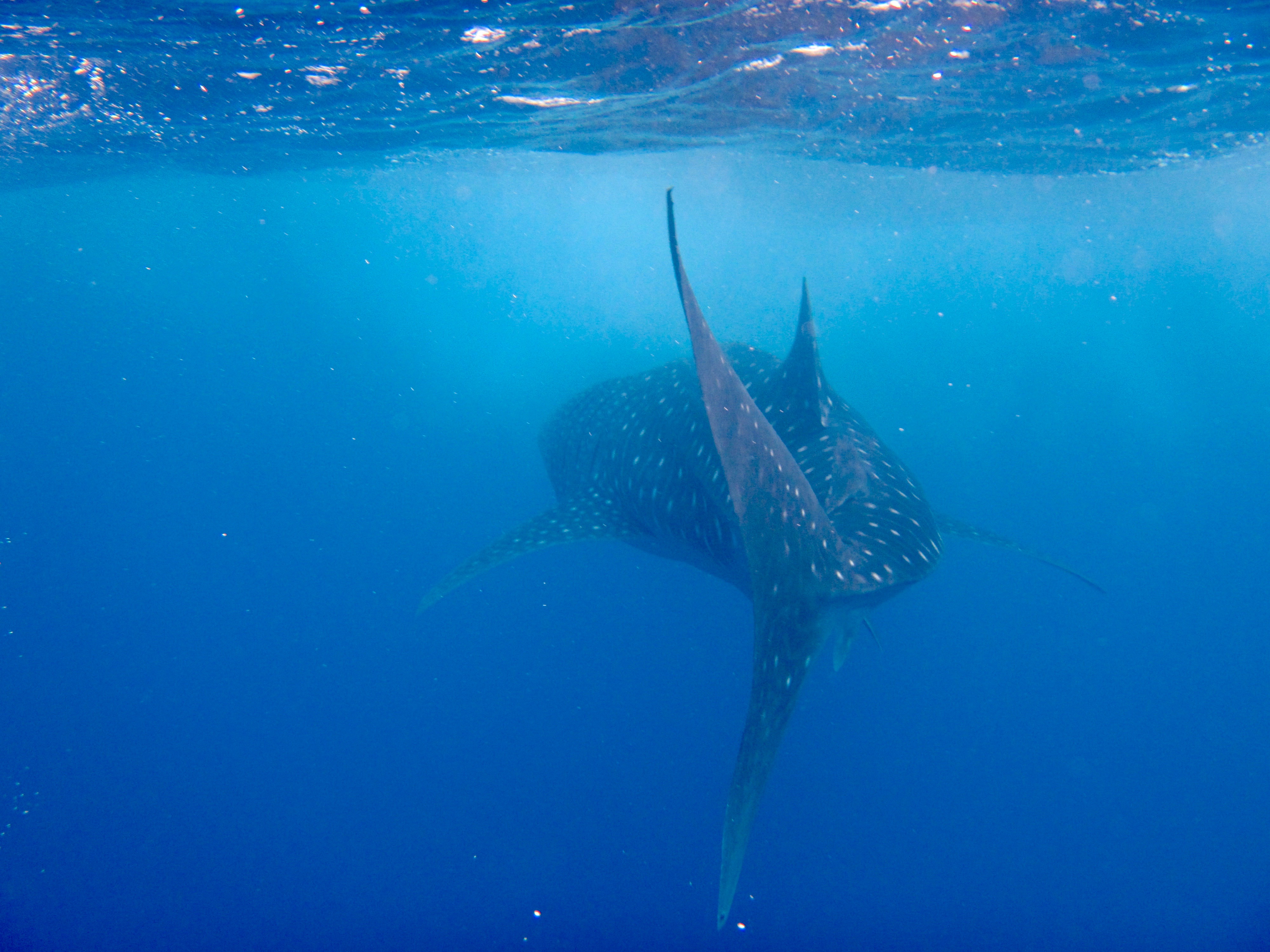 Undoubtedly the whale shark is an awesome creature, even though those that visit the shallow seas around Maamigili are, by and large, only juveniles. MWSRP collect data around encounters with individual sharks, including their condition (such as length and injuries) as well as sea conditions at the time of encounter. This database is then made available for scientists interested to study these magnificent creatures.
I found the identification method fascinating; the software was adapted from a NASA software originally meant to identify constellations from star patterns, drawing inspiration from the starlike patterns on the whale shark. But that tool is for the ordinary researcher and laypeople like us. Not for Iru, a Maldivian herself, who could recognise basically any resident whale shark by sight, as if it were a face. From her I learned the name of this fish in Dhivehi, the local language – fehurihi. If you ask me, the whale shark should be known by this word around the world, for I don't know another language that has a name for it so evocative of its grace.
And yet we learned also of concerns over the pressures that human activity, including tourism, exert to these sharks. The sharks that we observed by and large are not free of scars from injuries that usually look like propeller damage. I am reminded of the injuries sustained by turtles around the islands of my country – except that the turtle, being much smaller and without the whale shark's protective layer, such injuries are usually fatal. Similarly, I watched groups of excited snorkelers rush to crowd the shark, sometimes blocking its way and coming too close. O Man, pause and reflect, this creature may expect consideration from you.
Scientists wonder many things about this shark. Why are most sightings around Maamigili male? Where are the female whale sharks? And why are the mature sharks rarely sighted? On this though, I contemplate the range of any mature whale shark, for whom the sea is open to the horizon and below to more than a kilometre deep, deep down. A human, were she able to range across all land on earth, on her own power cannot live in three dimensions, let alone the third being one kilometre in range. With such a vast world available for it, what need compel a whale shark to limit itself to the part that fringes on the bustle and noise, and the risks of human civilisation?
I have definitely not regretted coming here. As I resign myself to the same currents to take me back to my own land, I call to mind the bond that had grown between us seven volunteers across our diversity, two weeks eating and playing together, the days we spent at sea. Spotting on the dhoni under the punishing sun, captained by skipper Gasimbe and the reliable Farouk. Volleyball with the locals. Dancing to bodu beru folk music. Night dip in the water, stirring biolominescent plankton to light, under a dark sky of scattered stars. The beauty and abundance of sea life beneath the waves, and blues on the surface like rippling glass under the wash of sunlight. And on a village island like Dhigurah: the simple life.