The representation of ocean denizens in a riotous procession of colour and choreographed movement, bouncing to the beat of traditional sounds and Maldivian instruments…
Welcome everyone, to the concept behind the 2nd Annual Maldivian Whale Shark Festival!
On the 6th December 2014, the local island of Dhangethi in South Ari atoll will host the second ever running of an event that celebrates all that is great about the whale shark, the oceans, the Maldives, the local communities and the inter-reliant connections between them all.
An event on this scale requires a lot of planning, collaboration and buy in from all involved. At the leading edge however, there needs to be a dedicated and talented few who can bring ideas and concepts to life in a way which involves a diverse range of stakeholders.
The MWSRP are proud to introduce you to the wonderful team who have volunteered to take this on.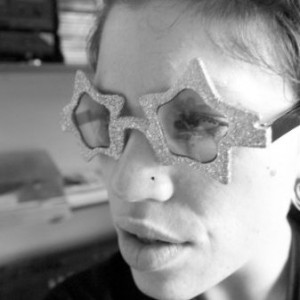 Chloe Osborne
MWSRP have welcomed Chloe into the 2014 festival director role with shamelessly open arms! This is because as the head of a small Emergency Exit Arts team Chloe and Whale Shark Designer extraordinaire Alex Evans were the undisputed stars of the 2013 inaugural whale shark festival, pretty much single handedly getting it off the ground!
In describing herself as a "participation producer, creative practitioner, programme designer and community development worker who works with communities, children and young people to make stuff happen", we can say from past experience that she has hit the nail on the head!
Trained at Lancaster Institute of Contemporary Art, The University of Hull and with The Centre for Performance Research, Chloe uses her own experience, as devisor/performer/writer/director to engage schools, community groups, young people and professional arts practitioners in challenging creative explorations.
One of Chloe's most engaging gifts is that she is very…engaging! Her undoubted creative talents and wide experience are a solid and respectable platform from which she launches her hugely amiable character and a simply irrepressible enthusiasm at whatever happens to be in front of her!
Chloe's aptitude for forward thinking and planning are matched with a solid implementation and management ability, which means that she is an excellent role model to younger or less experienced artists. Indeed, by working with Maldivian artists in creative collaborations such as the festival, she will be hoping to help forge a self-sustaining network of artists in the Maldives. It's quite possible therefore that Chloe may well leave behind a wider legacy from her time with MWSRP than just a whale shark festival.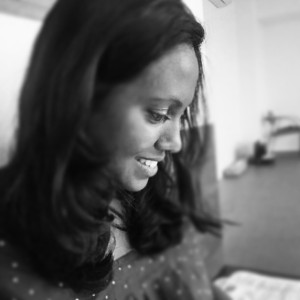 Kareen Adam
When MWSRP put the word out that we were seeking artists to help organise the 2014 festival, we were delighted to hear back that a young artist may be interested. That this young artist had just received an Outstanding Emerging Artist award from Brisbane's Southbank Institute of Technology and also happened to have organised the Maldives' first fringe festival in 2013 was beyond our wildest dreams!
Born in the Maldives but moving between the Maldives, Sri Lanka and Australia, Kareen was exposed to a range of different cultures. She believes this movement helped drive her artwork through "…ideas about transitions, migration and cultural assimilation". She adds "A sense of belonging, home, and self-emergence…" are themes that she finds herself coming back to in her artwork.
Kareen primarily uses the medium of printmaking, drawing and mixed media to explore these concepts. It is printmaking however that particularly appeals to her, both because of its production and aesthetics.
A self-confessed "very social person" coming from an artistic family, Kareen only decided to pursue art seriously in 2012, after completing her post-graduate studies in psychology. Her artwork has already been shown and acquired in Brisbane, Melbourne, Hong Kong and the Maldives and she is currently developing a range of screen printed hand-made products under her own label, "kudaingili'.
When asked about what it was that drew her to get involved with the festival, Kareen replied that she is "…especially looking forward to sharing my love for printing, fabrics (and having fun) with the local communities involved in this project".
We look forward to that too Kareen!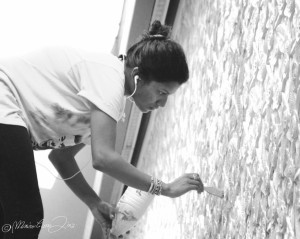 Nadee Rachey
If MWSRP was excited that one talented young local artist had answered our call, then we were positively stunned when Nadee threw her hat into the ring as well!
Born in Male, Nadee states that since "…early childhood, drawing and painting has been a very passionate hobby". A hobby that eventually led her to Melbourne, Australia where she completed a two year Diploma in Visual Arts and also where in 2011 a degree in BA Fine Arts Photography at RMIT University was added to her growing list of hobby qualifications!
Despite the degree, Nadee decided to put photography aside for the time being to pursue her childhood painting passion as a career. It proved a good move, as in 2012 she got the opportunity to participate in an art camp and work with some of the leading artists within the SAARC countries, which was then followed by an international exhibition held in Sri Lanka.
As her notoriety within the Maldives art scene grew, so came the commissions. She has created works of art for individuals and resorts across the Maldives, including creating wall murals for the new Cheval Blanc Randheli resort and Herathera Island Resort's dive school. Nadee's art doesn't follow any one style, though it seems large scale wall murals are a favourite way to express these various styles.
Why the interest in the festival? "I try to push myself to experience brand new things every day…I hope to bring this enthusiasm and passion I have for painting to the whale shark festival".
Happy days! We look forward to seeing you there Nadee!