Well what a fantastic 6 months in the field we've had!! I don't think we have ever seen as many sharks in one research period, I don't know if that's because we are better at spotting, we've had more time on the reef or there are just more sharks about but we certainly feel very lucky this year. We never know what we will see when we set off each morning but I think we all agree that every day we have those jaw dropping moments because of the visibility and beauty of the reef.
In the last 6 months we've had a total of 328 encounters with 45 individuals. We've also had our highest number of encounters in one day – back in March we had 15 encounters. What an incredible day that was! We have days where we only see one or two (and yes, stretches of a few days with none!) but we have had weeks were we have been seeing 5, 6, 7 and more every day. It's certainly been busy for us on the reef.
We have had most multiple encounters this year with not just two sharks circling each other but up to four at one time. We even had a Male & Female interacting with each other which is a first for us.
The shark we've seen the most this research period is WS108 – Andy, we've seen him 20 times. This is particularly amazing as Andy was the very first shark ever seen by the team when we first came out in 2006 – 8 years and going strong! The two other most seen sharks were WS170 – Lucky and WS177 – Pedro seeing them both 19 times.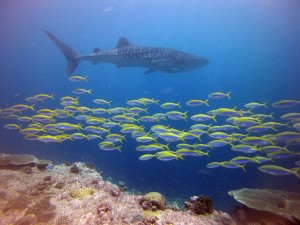 We've had some wonderful encounters with some very curious sharks that would come so close to us, the boat and even interact with divers bubbles. Three very curious sharks spring to mind and they are all fairly new on the database – WS203 Fra, WS206 Pischke & WS141 Jonah.
We saw our biggest and smallest shark on our database on the same day – WS198 Nacococo, who we measured at 3.1m and WS010 Pugsley who is 7.8m.
As well as seeing the Whale Sharks on the reef every day we also see an amazing amount of other species too. From Turtles, Mobulas, Sailfish and Reef Sharks to bigger mega fauna, including a sighting of an unidentified whale last month! We managed to swim with Spinner, Bottlenose & Risso dolphins and we've seen numerous pods of Pilot Whales passing through. One very unusual thing we saw was bottlenose dolphins swimming around a Whale Shark, it took us a few minutes to figure out there was a WS in the middle of the dolphin pod! We've been fortunate to swim with many Manta Rays – even watching one jump right in front of the Dhoni.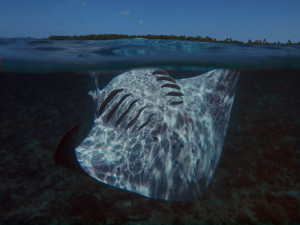 Of course, none of this would be possible without the fantastic help of our volunteers – this year we had volunteers from all over the world – Australia, USA, UK, Switzerland, Denmark, Wales, Italy, Maldives, Hong Kong, Netherlands, Belgium, Canada, New Zealand, Germany, Japan, Slovakia, Singapore!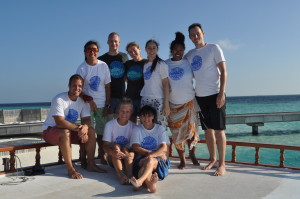 Other highlights from this year would be living with the local community – being invited to play volley & football games, short eats, dinners, playing with the local children, swimming lessons! You name it, we've done it. We saw some amazing blue tides early in the year and we are always in awe of just how many stars we can see on a night & how bright the moon is with no light pollution around.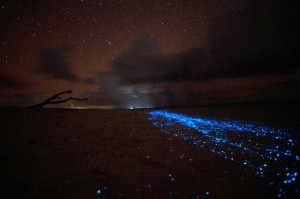 The end of this year we had a different perspective on the reef from 'kite cam' which was a great experience to be part of & something totally new for us. I'm sure next season will see lots more 'firsts' for us and we can't wait to be back in the field!