Hello from the Maldives! Our names are Jacob and Cameron and we are currently working for the Maldives Whale Shark Research Programme here in the Maldives.
As staff our main tasks are to take photo identification shots of each whale shark to determine which sharks are encountered and to keep our database up to date.  While we are in the water, we also take photographs of any injuries the shark may have incurred and determine the sex of the shark.  This will help us to determine healing rates, frequencies of boat collisions and population dynamics here in the Maldives. We also help to measure the lengths of the sharks we encounter in order to determine growth rates.  Another aspect of our work is to involve volunteers in our research.  They help us with gathering data and uploading it to our online portal.  We have both been here for about a month and will continue to work until the end of the research period, which is April 19th.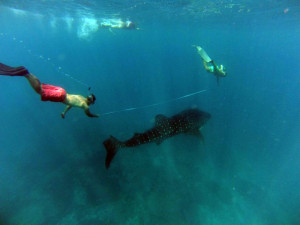 Despite being in the field before, it has been quite a busy month of firsts for us.  We have had a total of 71 encounters with 22 different individuals including our first female, WS199 Denali.  Another first for us was when WS127 Woody joined our encounter with Denali making it our first double encounter.  Seeing Woody and Denali circle each other amidst a school of fusiliers was something we wont ever forget even though romance wasn't in the air.  Since we only have 8 females in our database of 206 sharks it was exciting to see both genders at once.
Our daily routine involves a variety of tasks including observing any unique behaviors.  One unique behavior that we both encountered was our first glimpse at whale shark defecation.  WS071 Fernando was kind enough to enlighten us on this infrequently seen natural process.  It was amazing to witness and humorous to see him speed off leaving us all to contemplate what we just saw.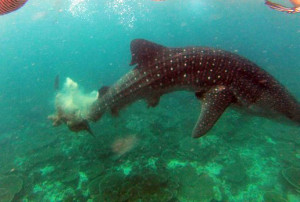 Although we are a whale shark research programme, we also are interested in the health and biodiversity throughout the Marine Protected Area where we conduct our research.  This means that our eyes are not just tuned to spotting whale sharks and that we often come across a plethora of different species.  One highlight from this month was being able to swim with bottlenose dolphins.  After several failed past attempts, swimming with a large pod and listening to them echolocate around us was a delight.  Another highlight was witnessing an aerial show performed by a reef manta.  Whether he was trying to clear parasites or simply having fun, his attempted back flip ended with an ungraceful belly flop a few metres from the boat.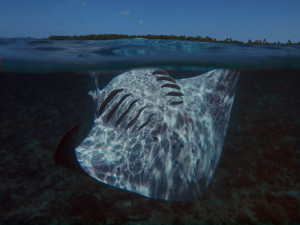 All in all it has been a fantastic experience with a lot of great memories.  We look forward to the next few weeks and hope to have some more stories to add to our ongoing adventure with whale sharks.
-Cameron and Jacob