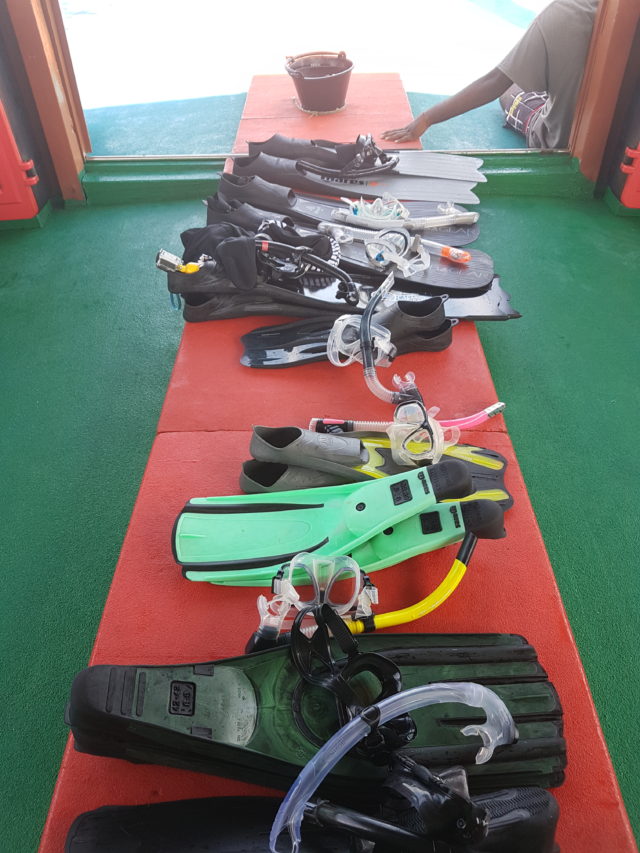 I am now back in my homeland after a whirlwind 4 weeks spent in the Maldives with the MWSRP team.
I came into the program with an open mind and open heart as someone who has an avid interest in marine biology and research. Coming from a science education background I was fascinated by what the program MWSRP had to offer and who could pass up an opportunity to assist research in the Maldives, one of the most beautiful destinations on the planet?
After such a long journey I was greeted with what one could only describe as meeting my family for the first time. Feelings of nervousness, trepidation and fear of the unknown can be overwhelming but the moment I stepped foot onto Dhigurah I felt at home. The smiling and welcoming faces of the staff instantly put my mind at ease. As you met other passionate volunteers and staff from all backgrounds and nationalities, you realise you have one very big common passion – marine conservation; all coming together for a greater cause unites you like no other experience. The diversity of the volunteers and staff could only be matched by the diversity of the marine life so abundant in this unique location.
Our days were spent on the roof of the dhoni scanning the crystal clear waters for that ever elusive dark shadow. We were also on the lookout for other marine life such as turtles, other large fish, dolphins and manta rays. There is nothing quite like the feeling of your first whale shark encounter. When that moment someone yells "shark" and the thundering sounds of stomping feet on the dhoni roof alert the captain to the find, you could feel the surge of adrenaline through your veins. Fins and masks go on faster than you can say "whale shark".
When you plunge into the water you eagerly swim in the direction the crew are pointing out the shark. Then the moment you finally see these giant effor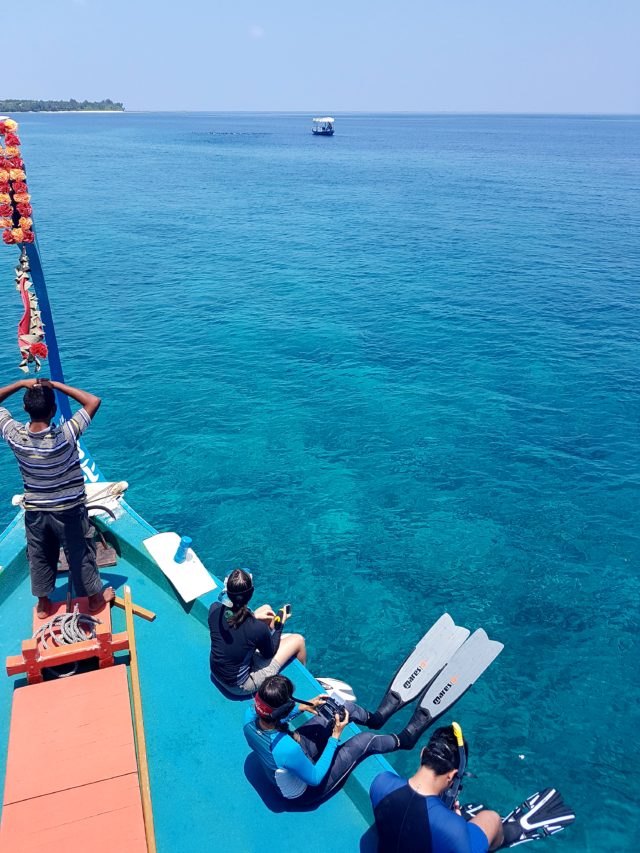 tless creatures all of that adrenaline and nervous energy dissipates to a feeling of utter peace and tranquillity. To be able to swim alongside these huge sharks and watching them effortlessly glide through the water is truly breathtaking. To know that the encounters are conducted in a way that allows the individual shark to dictate the length and overall experience makes the encounter even more extraordinary.
You immediately understand how important the work the MWSRP team do in understanding this vulnerable species and its marine ecosystem. Despite their enormous size they are so incredibly fragile and you are instantly overcome with a need to protect and preserve them, along with their habitat. When you witness encounters with up to a hundred frantic snorkelers you are disillusioned and shocked with some of the lack of respect from tourists. This makes the research MWSRP conduct all the more important in influencing the appropriate stakeholders and providing the appropriate data to enable effective conservation initiatives.

The nights are filled with entering data collected during shark encounters, the megafauna sighted during the day and boat activities observed in the marine protected area. When the clock strikes 7.30pm it's then the moment we had been waiting for all day – the buffet opens and we made our dash! We had an innate rule about seating allocations much as a family would at the dinner table. As you get to know everyone we soon recognise our fellow comrades by their plate of food. Nights were spent discussing topics from what our first drink of choice would be when we arrived home to what our typical Friday nights would involve. As we watched the sun go down we made endless plans to visit each other and discussed what we had to offer our extended family in our home town. We played games from volleyball, pool, foosball to games of cards that become overly competitive. Our mornings were spent zenning out with a yoga session run by a fellow volunteer which created a very positive and holistic feeling for the day. This created a space where the world looked and felt more real, substantial and vivid allowing us to fully appreciate the MWSRP experience. This followed by our breakfast routine of ordering omelettes and toasting bulk slices of bread for each other, even having the kitchen staff have our omelettes ready when we would be running late.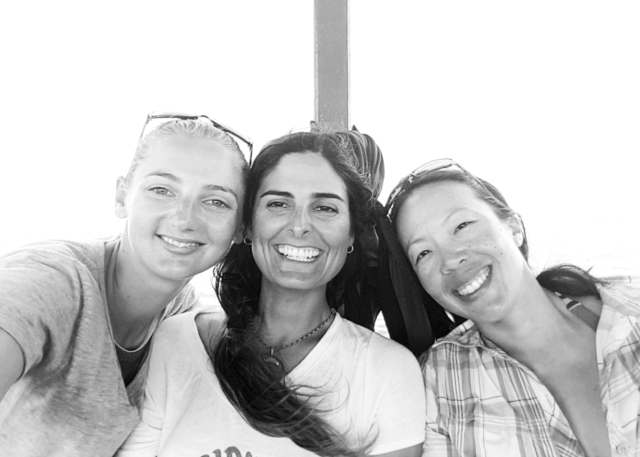 Some days were long and thoughts of home and all the food and activities you missed start to drift into mind. That is when we would occupy ourselves by guessing our current GPS location, making marine themed dance moves and getting to know the gritty ins and outs of each other. Then we had days that we wished would never end and that time would stand still. Those are the memories that I will cherish the most. Being in an environment where reality is a world away allows you to be yourself without judgement. Stepping out of your comfort zone only to step into a world of gratitude and love allows you to create lifelong bonds. Sharing incredible encounters with whale sharks as well as other marine life ignites your passion for marine conservation and inspires you to share your experiences with your community back home. By immersing yourself in the full MWSRP experience from marine conservation, community awareness programs and team bonding activities you take full advantage of what the program has to offer.

Thank you to Alex, Ed and Iru for sharing your wealth of infield experience at the tail end of your journey at MWSPR with me. It will be very inspiring following you on your next chapter and to see what the marine conservation community holds for you all. Clara and Basith thank you for passing your knowledge and passion for marine conservation onto me. It is very exciting to see both of you very comfortable in your new positions and it will be very intriguing to see what you can achieve as a team. Thank you to all the TME staff and Guisnbe and Farooq. This wonderful crew made us feel so welcome and made the experience at MWSRP as smooth and professional as possible. To my new family "I shut my eyes and you'll know I'll be lying right by your side".