MWSRP, with help from contributors to the Big Fish Network, has logged over 8,000 encounters with whale sharks since 2006. It is part of the work we do to compile and communicate the findings of our studies so that decision makers in the tourism industry and government can put the correct measures in place for sustainable tourism. Effectively managed whale shark sites can provide safe and enjoyable encounters, both for guests and the sharks.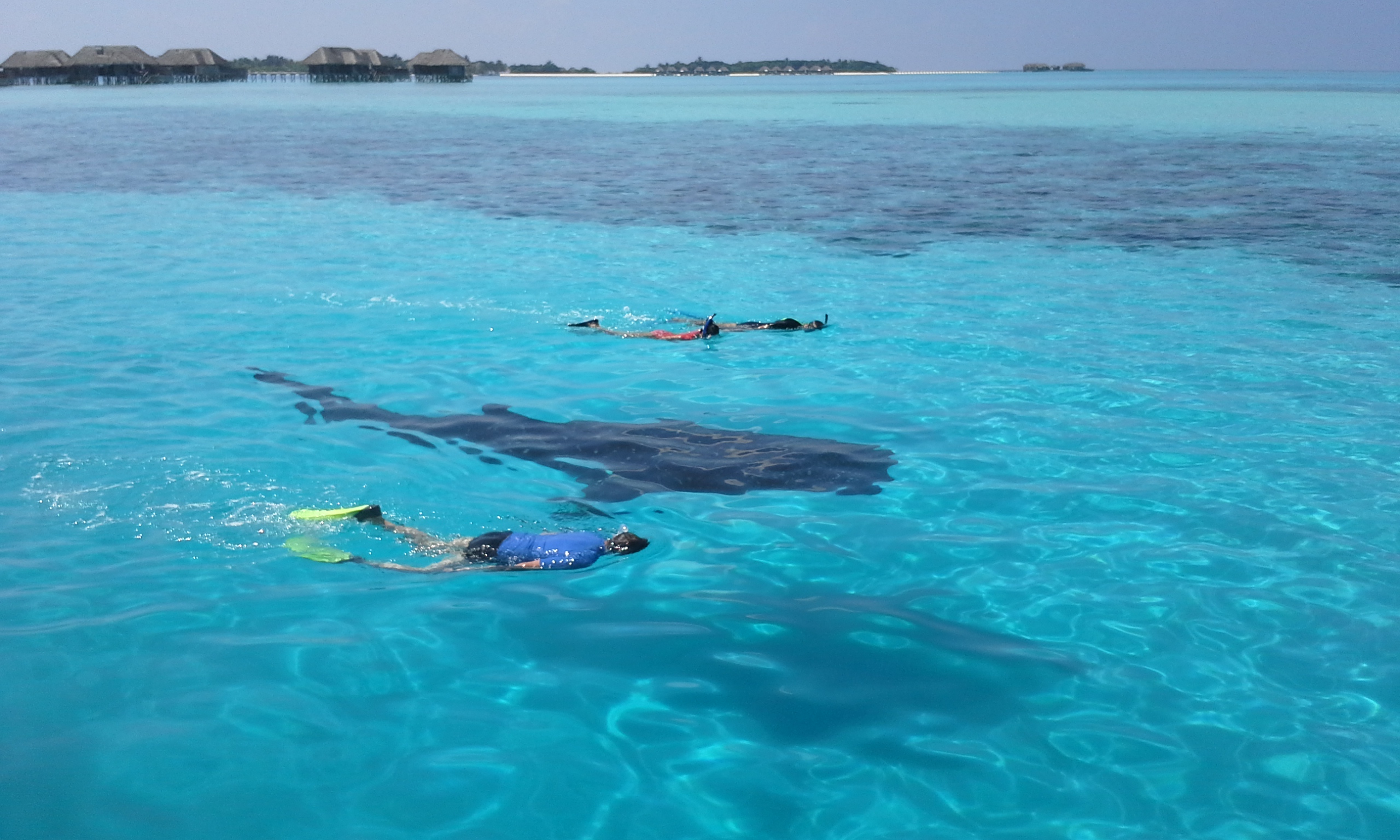 When done well, a whale shark encounter can be peaceful for both parties! (Photo credit: Gaona Francisco, Conrad Rangali)
FAQ's on Sustainable Whale Shark Excursions in Maldives
We at MWSRP receive a lot of emails wondering where, when and with who it is best to go to see whale sharks in the Maldives. Usually they start with something like "It's my dream to swim with a whale shark in the Maldives, but… ". So here's our responses to the top questions by people planning a trip to swim with whale sharks in the Maldives;
…who should we go with? Who are the best whale shark tour operators?
There are many good companies, but sadly there are still undoubtedly a few who still miss the mark. Although whale shark spotting is a real skill, even the most experienced guides will admit you still need to be lucky! To us 'best' means conscientious, safe, informative and in our experience the best whale shark tour operators do the following 3 things:
Give an in-depth briefing to their guests before an excursion
Follow whale shark best practice guidelines
Contribute their whale shark encounter information to research
Ask your prospective host about these. If they give good answers to all three then you know you're with one of the good ones!
…what can I do to reduce my impact and/or help the whale shark?
Ah! music to our ears! Remember – it is up to all of us to do our bit.
Expectation management:
The biggest issues on the reef stem from guests with unrealistic expectations. Often through no fault of their own they will expect to see a whale shark. This is translated into pressure that is felt by the guides, the tour companies and before you know it guest experience can overtake concerns for the whale sharks experience. In South Ari your chances are probably 50/50. Which is actually pretty good, after all you're not in an aquarium. So our advice is to make peace with that, stay philosophical and treat the area and the sharks with the reverence they deserve. South Ari is an incredible day out on the boat whale shark or no whale shark!
Stick to a few common sense guidelines.
So first things first, make sure your own impact on the whale sharks is as small as possible. The 'How to have a safe and enjoyable whale shark excursion' animation below was made for operators as well as their guests. It lays out the most important rules for both tourist and operator as designated by the relevant government departments in 2009. Again if your operator doesn't appear to be aware of these guidelines, then question why not. Until regulations are in place, positive pressure from informed guests like you will have the biggest impact on the conduct of the industry.
Help science help the big fish!
Being a citizen scientist means contributing important data about your encounter to researchers. Did you know that every whale shark has a unique spot pattern, just like a finger print? We now have around 525 sharks on our register. If you are intending to visit the Maldives and hope to swim with a whale shark you can now contribute your encounter data directly to us through the 'Whale Shark Network Maldives' mobile app, free on iOS. Please click here for more information. By submitting photographs of the shark you saw to the Big Fish Network you can help us 'track' an individual whale shark. This technique underpins almost everything we've found out about whale sharks in the Maldives to date. Good research informs good management decisions which in turn creates good karma (probably 🙂 ).
Watch before you visit!  How to have a safe and enjoyable whale shark encounter